Posted By: ValkyrieMome
URGENT - Genetic Flaw discovered -

09/26/10

04:36 AM
In  
The Thread About Platinum Mosaics
some genetic problems were discussed from some of the lines.
I want to put this out there ... because there are A LOT of glider affected, and breeders need to know. This genetic problem has been known about for some time, and while the breeders who discovered it worried about the implications, the problem has been spreading. Another big concern I will discuss later.
There is a genetic defect in the Frodo line. The defect is a recessive trait. Which means, that it is "bred out" the same way a Leu line is bred out. Therefore, there are ACTIVELY BREEDING GLIDERS who are now 100% het for carrying this genetic defect, and 50% het, and .... etc.
The "Wiggle Gene" manifests itself as a clear neurological problem. Joeys born with this defect are obvious from the minute they are OOP. They can not be still. They cannot control their body movements very well. They are able to walk, and eat, but it takes them extra time to learn to take care of themselves.
Because there have been enough joeys born with this trait, we are now able to CLEARLY trace the lines, the known 100% hets and most (NOT ALL) of the 50% hets. It is not possible to know how many other hets are out there and have not "proven out" yet.
I URGE you to NOT cross Frodo line gliders. If you have a glider on this list, it is a 100% carrier, or there is a 50% chance it is a carrier. If you have JOEYS from these gliders, they also could carry this genetic defect, and pass it on, the same way the Leu gene is passed on in hets.
FRODO is the original carrier.
Frodo and Noel produced Alex, who produced Beatrice.
Frodo and Lily produced Dante.
Dante and Beatrice bred and produced 4 joeys, 3 of them with this "wiggle gene" defect. Shortly after the 4th joey was born healthy, Beatrice was sold off and repaired, and we don't really know for certain what happened to Beatrice after that. The healthy joey was paired with Dante, who was neutered.
Here is a video of two of Dante and Beatrice's joeys. Dimitri, and his twin, Teagan, both whom DO have the "wiggle gene."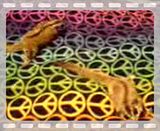 The KNOWN 100% carriers of this gene are:
Frodo     Boogie     Beatrice     Dante     Violet     Calypso     Mallory     Gardenia     Poppins     Gilthanas     Precious     Smidgin     Kitty
Here is a video of Shimmer, who expresses this gene:
This video was removed at the request of the breeder, who wishes to remain anonymous
These two joeys were just OOP last week:
This video was removed at the request of the breeder, who wishes to remain anonymous
Each time one of these gliders breeds, it's joeys become 50% hets for this genetic flaw.
The KNOWN 50% het carriers of this gene are:
Bailey     Bijou     Cookie     Daffi     Daisy     Ferdinand      Geppetto     Guisseppe     Heather     Hermoine     Jamie     Kala     Mechache     Memrie     Nemo     Seth     Suga     Sunshine     Xander     Zookie     Dylan     Hannah     Josh     Miss Molly     Panzy     Aurora      Charolette     Elfie     Forrest     Matklin     Mumsy     Willow     China Doll     Angelica     Apple AL     Aster     Casanova     Lily (E.S.G.)     Caspian     Cheezer     Ivy     Macaroni     Nila     Romeo     Rosie     Tera     Carlisle     Bright     Fancy     Jewel     Lil' Dude     Loli     Lukas     Maddie     Molly     Pop     Sharpie     Stitch     Bailey (tsp sugar)     Cleopatra     Holly     Tipkins
And those are only the ones recorded in the Pet Glider Database - there may be more.
In fact, this genetic flaw has been "bred out" almost more effectively than the leu gene! There are those who have thought that the gene could only be passed when in-breeding occurs. But you can clearly see how quickly the "hets" are producing. This gene started with grey and white faced lines, but has now possibly contaminated the leucistic, mosaic, and cremino lines. This gene has been proven to successfully pass quietly over 6 generations before surfacing again when two carriers were placed together.
ALL BREEDERS: please look at your lineages. If any of the gliders above appear in your lineages, you must think VERY CAREFULLY about breeding that glider.
Now for the other big concern that those who have traced this gene have: That as a result of this research, gliders will be split from their bonded mates and be bred to others. I personally would encourage breeders to neuter their gliders that are higher hets for this gene, so as to avoid passing it on further. My wish would be for current pair bonds to be allowed to live out their lives together as non-breeding pairs. I realize every breeder will have to make their own ethical decisions.
PLEASE
do not turn this thread into finger pointing and name calling and breeder bashing. There is NO USE pointing fingers now.
The important thing is to stop the spread of this genetic flaw in gliders, so that our beloved gliders do not develop the same genetic curses as Waardenburg's Syndrome in ferrets, or Wobbly Headed-Syndrome in hedgehogs. We breeders CAN STOP the progression of this now, simply by checking lineages, and retiring some breeding pairs.
You can see all the currently known videos of the joeys expressing this gene here:
Wiggle Album