Posted By: lilqwen
Intro how to proceed -

05/07/17

05:23 AM
So I got my female 2 weeks ago on a Friday, and took my gliders to the vet the following Tuesday. Everything was fine and they both checked out healthy. So I had been swapping pouches and put their cages next to each other, and haven't heard crabbing. Thursday night I went into the shower with both of them to introduce them and see how they would react to each other. At first my boy (neutered by the way) would hide behind me, but then he would approach her and they got along fine. I put them back into their individual cages, and took them back into the shower last night. They immediately ran to each other and played, and both went to the same pouch in my blouse for a nap. I let them nap for a while in my blouse, checking on them the whole time. They seemed to get along great so I put them in the same cage (a brand new one I just bought, with both their pouches in it). I watched them for an hour and they were perfectly fine. I ran off for an hour to make dinner and came back to check on them. They were fine. I didn't sleep much last night because I kept checking on them and nothing they were happy and fine. This morning I wake up and check on them, they were happily sleeping in the same pouch so I didn't want to bother them. In the afternoon about 3 I went to grab my boy to put in his bonding pouch (I do this with each of them separately, a few hours each), and my sweet boys fur on his face was missing! It seems Ezra over groomed his head. At first it looked really bad but it was just because his fur was still wet and stuck together. It's hours later now and it's not as bad as I originally thought, but their back in their original cages.
I started spraying him with some vetericyn, because I wasn't sure how bad it was in the beginning. But now that his fur has dried I'm a lot calmer lol. So how should I proceed with introducing and eventually combining them? I don't want her to keep overgrooming him because what if it gets really bad for him? But I don't think either should live alone. Am I supposed to get another 2 gliders, or can this be resolved?
A little info about Ezra is that I adopted her from a family where she belonged to the teenage daughter. Her cagemate recently passed away but the family didn't know from what. The teenager is a senior in high school and with graduating and college applications didn't have the time for her any longer. She was kept alone in a cage for a little over a month. Her cage was pretty clean looking but it smelled badly, there were no toys (save for a large reptile style branch, and a wheel covered in feces and sticky with urine), and the father said that neither glider ventured in the bottom half of the cage (a double critter nation that had the floors separated with just the entry hole available).
This is how he looked when I first saw him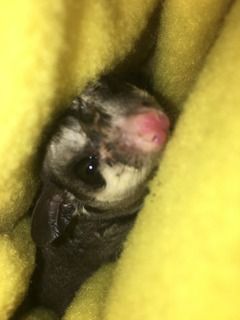 This is how he looked about an hour later as it was drying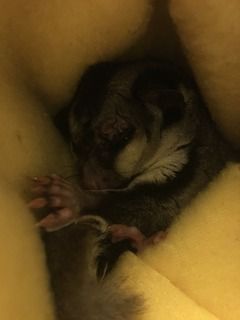 And this is just recently all dried